---
Redland International Orchid Show:
Date:
May 17-19, 9:00 – 5:00 pm
Location:
24801 SW 187th Ave,
Homestead, FL 33031
MAP
Head to the lushly landscaped Fruit and Spice Park in Homestead for one of the largest annual orchid shows in the country. The Redland International Orchid Show is a three-day event open daily from 9 a.m. to 5 p.m. and featuring more than 50 booths of orchid vendors, classes and a lecture series. Tickets are available at the door for $10 per person or purchase a three-day pass for $25.
---
Haitian Compas Festival:
Date:
May 18
Location:
MANA WYNWOOD
318 NW 23RD ST,
MIAMI, FL 33127
MAP
Celebrate the sounds of Haiti at the annual Haitian Compas Festival, featuring dozens of the best musicians from Haiti. Tickets start at $45 for the concert, plus there are special packages that include access to official parties.
---
The Big Quiz Thing
Date:
May 17, 2019 at 8:00 PM – 9:30 PM
Location:
PHILLIP AND PATRICIA FROST MUSEUM OF SCIENCE
1101 Biscayne Blvd.
Miami, FL 33132
MAP
Cost: $5 per adult; admission is free for those with a Laser Friday show ticket
The Big Quiz Thing is bringing its multimedia quiz-show spectacular back to Frost Science!
Hosted by Quizmaster Frank Vomero, the Big Quiz Thing is way more than a bar trivia event: It's a full team-based game show, with video and audio puzzles, the Lightning Round, the Buzzertastic Finale, and the best, most "figureoutable" trivia questions anywhere, all played via the BQT's unique digital answer system (play on your smartphone or another digital device). Plus, there's hope for the non-geeky: Smart-Ass Points for wrong but funny answers. All for honor, glory, and prizes.
---
Duke vs. University of Miami
Date:
May 16 – 07:00 pm
May 17 – 07:00 pm
May 18 – 01:00 pm
Location:
ALEX RODRIGUEZ PARK AT MARK LIGHT FIELD
6201 San Amaro Dr
Coral Gables, FL 33146
Cost: $8+
Be part of the best of college baseball with University of Miami Hurricanes taking on Duke on Thursday, May 16, 2019 at 7 pm. The Hurricanes Baseball play at the legendary Alex Rodriguez Park at Mark Light Field that is known for producing many professional athletes. With 4 national championships, The Hurricanes have joined the college baseball's elite. Speaking of elite, the concession stand is known to make one of the best milkshakes in variety of flavors and toppings that is a fan favorite. This is a fun outdoor event for everyone in the family.
---
FlamenGO
Date:
May 17 – 18, 2019, 08:00 PM
Location:
MIAMI-DADE COUNTY AUDITORIUM
2901 W. Flagler St.
Miami, FL 33135
Cost:$28
MAP
A cast of internationally acclaimed artists will take us to a journey through the different palos of flamenco using the three basic pillars: guitar, song and dance. "Prendidos" (Lit) is a pure process, is the life itself on stage performed by the bailaor Alfonso Losa; guest dancer Vanesa Coloma; guitarist Jose Luis de la Paz and Ismael Fernández vocals.
---
Miami Rum Renaissance Festival
Date:
May 17 – 18, 2019, 04:00 PM to 08:00 PM
Location:
CORAL GABLES WOMAN'S CLUB
1001 East Ponce de Leon Blvd
Coral Gables, FL 33134
MAP
Cost:$50 Regular ticket, $75 VIP
Rum. This popular drink among pirates and rogues throughout history, has gone mainstream and upscale. This weekend you will have a unique opportunity to experience for yourself all the intricate flavors of rum from around the globe. The Miami Rum Renaissance Festival is"the" premier international rum event and presents an exciting celebration of the fine arts of distillation, maturing and blending fine cane spirits.
---
Liyana
Date:
Saturday, 5/18
Location:
Gables Cinema,
260 Aragon Ave,
Coral Gables, FL 33134,
MAP,
**Cost:**Free
Five orphaned children in Eswatini turn past trauma into creative fuel for an original collective fairytale in which they send a young girl on a dangerous quest. Sensory friendly.
---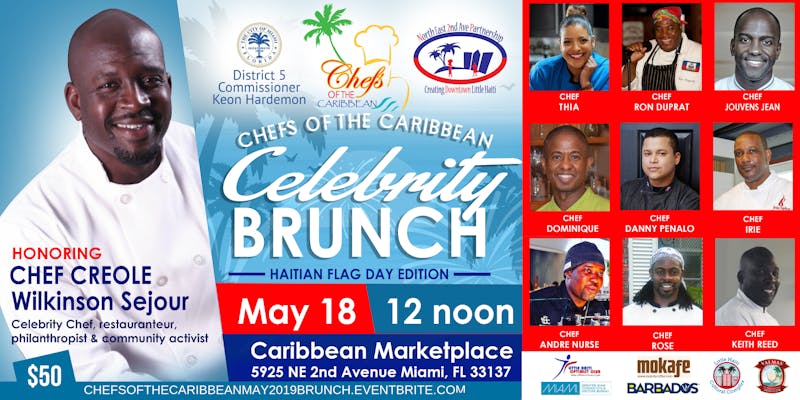 Chefs of the Caribbean Celebrity Brunch
Date:
May 18, 2019, 12:00 PM to 2:30 PM
Location:
LITTLE HAITI'S CARIBBEAN MARKETPLACE
5925 NE 2nd Ave.
Miami, FL 33137
MAP
Cost:$50
The CHEFS OF THE CARIBBEAN Celebrity Brunch will feature delicious dishes from each Chefs including an island dessert area, specialty beverages & spirits and more. Guests will also enjoy the ART BEAT MIAMI Art Fair featuring art from local, national and celebrity artists. For more information and for ticket sales, visit artbeatmiami.com. Tickets will also be available on eventbrite.com and the week of the event at the Caribbean Marketplace. Cost is $50.00 per person.
---
Cuba Nostalgia
Date:
May 18, 2019, 11:00 AM to 11:00 PM
Location:
MIAMI-DADE COUNTY FAIR & EXPOSITION INC.
10901 SW 24th St.
Miami, FL 33133
MAP
Cuba Nostalgia has been celebrating cuban culture and heritage in South Florida for the last 21 years. This year will be no different with numerous exhibits, memorabilias, art and music. Experience the vibrant cuban culture and many recreational activities at cuban landmarks such as Floridita, Catedral de la Habana, El Encanto, Museo de Bellas Artes, Tropicana and many more.
---
Miami Marlins Fun Day at Bayside
Date:
May 18, 2019, 11:00 AM to 01:00 PM
Location:
BAYSIDE MARKETPLACE
401 Biscayne Blvd.
Miami, FL 33132
MAP
Cost: FREE
Enjoy a perfect outing for all ages with FREE pop up activities, popcorn, balloons, face painting and special appearances by Billy The Marlin and the Marlins Mermaids.
---
Chopin for All
Date:
Sunday May 19, 2019, 03:00 PM
Location:
Presbyterian Church
950 University Drive
Coral Gables, FL 33134
MAP
**Cost:**Free
The Chopin for All Concert Series invites Andrew Li, a laureate of the 2017 Hilton Head International Piano Competition, to be the last musician to perform in the series! This free event takes place at the Granada No tickets required and seating is on a first-come-first-serve basis. We'll see you there!
---
METROPOLIS APARTMENT – FOR SALE
9066 SW 73 Ct # 605 Miami, Florida 33156
Loft style apartment at Dadeland. 13 FT ceilings add to the spacious feeling of this open plan 1 bedroom, 1 bath + den. Metropolis Dadeland, walking distance to Restaurants and shopping. 2 swimming pools, Jacuzzi, fitness center, recreational room 24 hr concierge services and valet parking.
---