---
CORAL GABLES RESTAURANT WEEK
Date:
JUNE 4 –24
Location:
Restaurants
The rest of the month of June is filled with colorful cocktails and delicious food specials at restaurants on Miracle Mile and throughout Downtown Coral Gables. Coral Gables Restaurant Week features more than 40 eateries offering special three-course, prix-fixe lunch and dinner menus at discounted prices.
---
VIERNES CULTURALES /CULTURAL FRIDAY
Date:
3rd Friday of the Month, 7:00 -11:00 p.m.
Location:
8th Street between 13th – 17th Avenues
Miami, FL 33174
Cost: Free
MAP
Viernes Culturales features music and works by local artists and artisans in and around Domino Plaza on Southwest 8th Street and 5th Avenue, and behold contemporary and historic artworks at many fine art galleries along Calle Ocho. Savor a delicious dinner at one of the local restaurants, boasting cuisine from all over the world. Come dance, eat, shop and enjoy a delightful evening in Little Havana.
Free trolley service from Mary Brickell Village and Brickell Metrorail Station, every 15 minutes starting at 6:30 pm
---
THE AUDIENCE
National Theater Live
Date:
Friday 6-21 – Sunday 6-23, 12 p.m.
Location:
Gables Cinema
260 Aragon Ave.
Coral Gables, FL 33134
MAP,
Cost: $20
For sixty years, Queen Elizabeth II has met with each of her twelve Prime Ministers in a private weekly meeting. This meeting is known as The Audience.
---
Out In The Tropics
Date:
May 24 – June 24
Location:
Miami Beach
A month of presentations by artists addressing issues ranging from politics to sexuality. The 10th season of Out in the Tropics presented by FUNDarte will feature a variety of performances at venues such as Centro Cultural Español, The Gleason Room at The Fillmore, The Miami Beach Botanical Garden and more. Tickets start at $25.
---
CITY THEATRE'S SUMMER SHORTS
Date:
MAY 30 – JUNE 30
Location:
Carnival Studio Theater
1300 Biscayne Blvd,
Miami, FL 33132
MAP
Celebrating its 23rd season of ten-minute entertaining plays, City Theatre's Summer Shorts, America's Short Play Festival, is happening throughout the month of June. Tickets start at $39 per person and are available through the Adrienne Arsht Center for the Performing Arts.
---
ROADWAY'S COME FROM AWAY MUSICAL
Date:
JUNE 18 – 23
Location:
Adrienne Arsht Center
1300 Biscayne Blvd,
Miami, FL 33132
MAP
A true story of the small town that welcomed the world, Come From Away is showing at the Adrienne Arsht Center. The musical takes you into the heart of the remarkable true story of 7,000 stranded passengers and the small town in Newfoundland that welcomed them. Cultures clashed and nerves ran high, but uneasiness turned into trust, music soared into the night and gratitude grew into enduring friendships.
---
REDLAND SUMMER FRUIT FESTIVAL
Date:
JUNE 22 – 23
Location:
24801 SW 187th Ave,
Homestead, FL 33031
MAP
Cost: $10
Summertime in Florida is synonymous with tropical fruit season, so come taste it all at the Redland Summer Fruit Festival in Homestead at the Fruit & Spice Park, from 10 a.m. to 5 p.m. Admission is $8 per person and children 11 and under are free.
---
TASTE OF THE CARIBBEAN
Date:
JUNE 21 – 25
Location:
Hyatt Regency Miami
400 SE 2nd Ave,
Miami, FL 33131
MAP
Cost:$55
Instantly transport yourself to the islands during the annual food festival Taste of the Caribbean, happening at the Hyatt Regency Miami. Featuring their best Caribbean-inspired fare, chefs will cook up a showcase of tropical dishes.
---
Cabaret ft. Elastic Bond
Date:
Saturday, June 22 @ 8:00 pm – 10:00 pm
Location:
Deering Estate
16701 SW 72nd Avenue
Miami, FL 33157
MAP
Cost:$25
The Deering Estate Cabaret Concert Series features eclectic and world music artists in the intimate setting of the historic Stone House Ballroom. Concerts begin at 8 pm; the main gate opens at 7 pm. Seating is accommodated at tables of 4 and all seats are filled when the event is sold out. It is opened seating so it is recommended to arrive early for preferred seat. Guests are welcome to bring refreshments and snacks to enjoy during the show. A cash bar will be available (21+ ID required).
Elastic Bond infuses an uplifting sound self-described as psychedelic tropical soul. The band originally started out as a loose studio collaboration between Venezuelan producer-musician Andrés Ponce and Honduran singer-songwriter Sofy Encanto, and soon developed into a unique blend of Funk, Hip Hop, Soul and Latin written and performed in Spanish and English.
---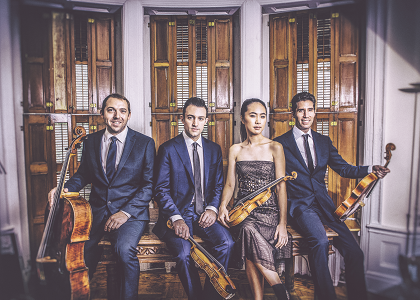 Chopin Festival Opening Concert
Date:
Sunday June 23rd 2019, 7:00 pm
Location:
M Gusman Concert Hall
1314 Miller Drive
Coral Gables, FL 33146
MAP
Cost:$35
The opening concert of the 2nd annual Chopin Festival features the renowned Escher Quartet, who currently serve as Season Artist of the Chamber Music Society of Lincoln Center. The evening's program includes the premiere performance of Nowakowski's Piano Quintet. Both Chopin and Nowakowski studied composition with Jozef Eisner and the similarity is striking.
Program: W.A. Mozart's String Quartet No. 23 in F Major, K. 590
Samuel Barber's String Quartet in B minor, Op. 11
Jozef Nowakowski's Piano Quintet No. 2 in E-flat Major, Op. 17
---
GIRALDA PLAZA MARKET
Date:
Sundays April 28 to September 29 from 12 p.m. to 5 p.m.
Location:
Giralda Plaza,
Giralda Ave,
Coral Gables, FL 33134
MAP
Giralda Plaza's newest event series is making it's way to the beautiful pedestrian promenade. The Plaza will be home to a market that will feature goods, products and treats for sale by local makers and crafters, as well as live acoustic music every other Sunday. Stay up to date here.
---
METROPOLIS APARTMENT – FOR SALE
9066 SW 73 Ct # 605 Miami, Florida 33156
Loft style apartment at Dadeland. 13 FT ceilings add to the spacious feeling of this open plan 1 bedroom, 1 bath + den. Metropolis Dadeland, walking distance to Restaurants and shopping. 2 swimming pools, Jacuzzi, fitness center, recreational room 24 hr concierge services and valet parking.