---
Out In The Tropics
Date:
May 24 – June 24
Location:
Miami Beach
A month of presentations by artists addressing issues ranging from politics to sexuality. The 10th season of Out in the Tropics presented by FUNDarte will feature a variety of performances at venues such as Centro Cultural Español, The Gleason Room at The Fillmore, The Miami Beach Botanical Garden and more. Tickets start at $25.
---
Air & Sea Show And The Musical Explosion
Date:
May 25-26
Location:
Miami Beach
Happening on Memorial Day Weekend, the Air & Sea Show is a two-day event presented by Hyundai on Miami Beach that will showcase and salute all five branches of the United States military with jet flyovers and stunts, extreme water sports and more. Dubbed "The Musical Explosion," there will also be a concert as well-known artists perform on stage while jets fly overhead. Expect fireworks, sand sculpting, lumberjack shows, motocross exhibition and a kids fun zone. The event is free and open to the public.
---
FOOD TRUCK INVASION
Date:
Every fourth Friday of the month: 5:30-10:30 p.m.
Location:
Tropical Park
7900 Bird Rd.
Miami, FL 33155.
MAP
Examples of food trucks that may attend some of the events above include:El Orgullo Latino Kitchen-Top Fries-Cold Stone Creamery-Don Mofongo-a Burger Shack——
---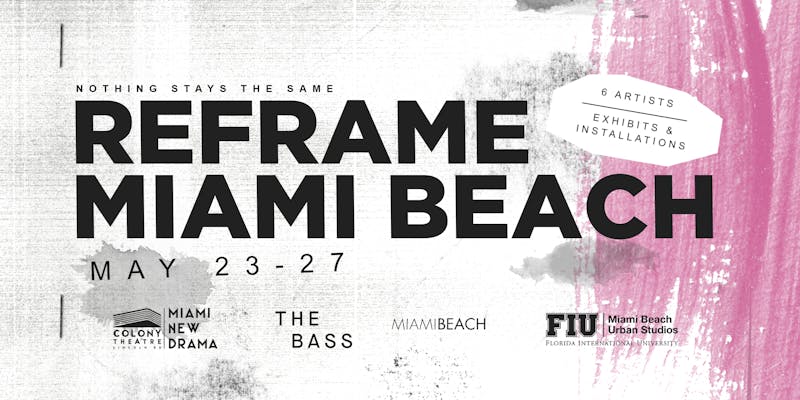 ReFrame: A Memorial Day Filled With Arts & Culture on South Beach
Date:
May 25-26
Location:
Miami Beach
A series of art and cultural happenings that reimagine Memorial Day Weekend on Miami Beach. New this year, ReFrame sparks crucial conversations about inclusion, surveillance, and propaganda using the works of local artists, curators, and organizers. Events start on Thursday, May 23 to Monday, May 27, with the creative minds from Miami New Drama and BASS Museum, and FIU Miami Beach Urban Studios among others.
---
Best Of The Best Music Fest
Date:
May 26
Location:
Bayfront Park
301 Biscayne Blvd,
Miami, FL 33132
MAP
Featuring local and national acts, tREhe annual Best of the Best Music Fest showcases bands across a range of genres including hip-hop, reggae, pop and more. The concert takes place on the waterfront at Miami's Bayfront Park. General admission tickets are available for $30 and VIP tickets start at $120.
---
Memorial Day
Date:
May 28
Location:
Differet Venues
Not only is Memorial Day a federal holiday dedicated to remembering those who gave their life while serving in the armed forces, it's also the unofficial kick-off for summer vacation season. In Miami, there are a variety of ways to commemorate the three-day weekend. Check out some of our recommendations on how to spend Memorial Day Weekend in Miami.
---
Family Fest: Step Afrika
Date:
May 25, 2019, Starting: 01:30 PM
Location:
ADRIENNE ARSHT CENTER FOR THE PERFORMING ARTS OF MIAMI-DADE COUNTY
KNIGHT CONCERT HALL
1300 Biscayne Blvd.
Miami, FL 33132
Cost: FREE
A homage to the African American step show while introducing the audience to Zulu and South African Gumboot Dance, Step Afrika shares step tradition of audience participation with complex polyrhythmic symphony that brings audiences to their feet. Step Afrika is a professional dance company dedicated to the tradition of stepping. Step Afrika! accomplishes this mission through arts education activities, international cultural exchange programs and performances. Over the past 19 years Step Afrika! has grown to become one of the top 10 African American Dance Companies in the US and the largest African American led arts organization in Washington, DC.
---
Miami Music Project: Fantastic Season Finale
Date:
May 25, 2019 , From 12:00 PM
Location:
FIU WERTHEIM AUDITORIUM
10910 SW 17th St.
Miami , FL 33199
Cost:$5 suggested donation
Come celebrate the Miami Music Project's season finale' of students at all levels.
12:00 PM
Intermediate and Advanced Level Ensembles
Including the Miami Music Project Leaders Orchestra
6:00 PM
Beginner Level Ensembles
---
MEMORIAL DAY CORAL GABLES
Date:
Monday May 27, 09:00 AM – 10:00 AM
Location:
Coral Gables War Memorial Youth Center
Address405 University Drive
Coral Gables, Florida 33134 \
Please join the City of Coral Gables in honoring the men and women who have their lives in service protecting our nation's freedom.
---
METROPOLIS APARTMENT – FOR SALE
9066 SW 73 Ct # 605 Miami, Florida 33156
Loft style apartment at Dadeland. 13 FT ceilings add to the spacious feeling of this open plan 1 bedroom, 1 bath + den. Metropolis Dadeland, walking distance to Restaurants and shopping. 2 swimming pools, Jacuzzi, fitness center, recreational room 24 hr concierge services and valet parking.
---