---
THE MERCEDES-BENZ CORPORATE RUN
Date:
Thursday April 25th, Starts: 6:45pm
Location:
301 Biscayne Blvd.
Miami, FL 33132
MAP
Registration fee per team member: $42
Minimum members per team: 4
Distance: 5K (3.1 miles)
Take strides for better health at the Mercedes-Benz Corporate Run. Unlike most races of its kind that occur in the early morning, this 5K run/walk happens after work in Downtown at Bayfront Park. Registration is $40 per team member.
---
BEACH POLO WORLD CUP
Date:
APRIL 25 – 28
Location:
Collins Park,
22nd Street Beach Entrance
Miami Beach, FL, 33139
MAP
Cost:$200
TICKETS
One of the hottest events directly on the sands of South Beach, the Beach Polo World Cup event showcases some of the best professional and amateur polo players and ponies in the world for a weekend full of heart-pumping matches on the beach. Join in on the action and watch high-powered horses gallop across pristine stretches of sand as their riders compete for bragging rights as best of the beach.
---
Independent Bookstore Day 2019
Date:
Saturday April 27
Location:
Books & Books,
265 Aragon Avenue
Coral Gables, FL 33134 US
MAP
WHAT IS BOOKSTORE DAY ANYWAY? A celebration of bookstores, books, readers, authors, and the whole bookish ecosystem. It takes place on 1 day at more than 500 individual bookstore all over the country. Thank you for coming to ours! RSVP HERE FOR FREE! WHAT'S WITH THE SPECIAL STUFF? Publishers and authors come together to create one-of-a-kind, exclusive books and literary pieces JUST FOR BOOKSTORE DAY. Get them while they last cause once they're gone, they're gone. ALWAYS THE LAST…
---
THE WIZARD OF OZ (R.S.C.)
By L. Frank Baum,
Music and Lyrics by Harold Arlen and E. Y. Harburg
Date:
APRIL 19TH – MAY 5TH
FRIDAYS at 7:30 PM
SATURDAYS at 2:00 PM & 7:30 PM
SUNDAYS AT 5:00 PM
Location:
Area Stage Company
1560 S. Dixie Hwy
Coral Gables, FL 33146
MAP
Cost:$15-$35
Following the immense success and critical acclaim of Shrek the Musical, She Kills Monsters, and The Little Mermaid, the young visionary Giancarlo Rodaz will direct ASC's latest venture.
The beloved 1939 film is well known to most and is based on the 1900 book series by L. Frank Baum. This version of the show, first performed in 1987 by the Royal Shakespeare Company in London, featured the film's music by Harold Arlen with lyrics by E. Y. Harburg—including "We're Off to See the Wizard" and "Follow the Yellow Brick Road", and book by John Kane. This iteration has become so successful throughout the intervening years that it has been touring the US nonstop since 2008.
---
THE THIRD ANNUAL ART FROM THE HEART
Date:
Saturday April 27, 7 p.m. – 10 p.m.
Location:
Moore Building
191 NE 40th Street
Miami, FL 33137
MAP
Cost:$35 +
Incredible opportunity to view and purchase works from Miami's world renowned artists and talented emerging artists. There will be over 150 art pieces to select from. Our honoree for the evening is Judge Dawn Denaro. All proceeds from the art auction will go towards building a better tomorrow for 1,000 children in foster care at the Family Resource Center. We are expecting guests who will enjoy an open bar, vendors, music, and delicious hors d' oeuvres prepared by Miami's premier chefs. Our liquor sponsor for the evening is Jack Daniels.
---
Deco: Luxury to Mass Market
Date:
Now – April 28, 2019
Location:
The Wolfsonian-FIU
1001 Washington Ave.
Miami Beach, FL 33139
MAP
Cost:$10, Free Sunday April 28
Deco: Luxury to Mass Market uses decorative arts, product design, architecture, and graphics from the Wolfsonian collection to demonstrate how Art Deco migrated and evolved from its European origins into a fully American style, most spectacularly realized on Miami Beach in the 1930s.
This is an ongoing exhibition.
---
O, MIAMI POETRY FESTIVAL
Date:
APRIL 1 – 30
Location:
Throughout Miami
April is your chance to encounter poetry in lots of different formats throughout Miami. Each spring, the O, Miami Poetry Festival attempts to deliver a poem to every single person in Miami-Dade County. Sponsored by the John S. and James L. Knight Foundation, the festival features more than 40 free events and 20 projects throughout the city. Most events are free.
---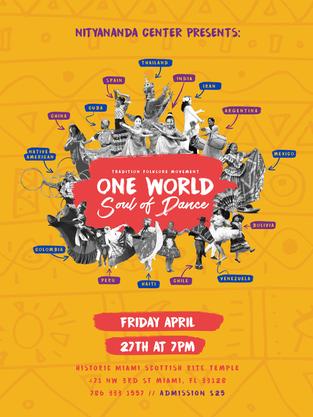 One World Soul of Dance to Miami
Date:
Saturday April 27, 2019, 7:00 pm.
Location:
Scottish Rite Masonic Temple
471 NW 3rd Ave.
Miami, FL 33128
MAP
Cost: $25
Professional folkloric dancers from all over the world are coming together for one night to honor their country's heritage and culture. This is the only event of its kind that brings dancers from diverse nationalities under one roof.
---
FARMERS MARKET
Date:
Sunday Year Round 11:00 am – 5:00 pm
Location:
Shops at Merrick Village
358 San Lorenzo Ave
Coral Gables, FL 33146
MAP
The Farmers' Market is located between Tourneau and Nordstrom and takes place from 11 AM – 5 PM every Sunday, year round. We look forward to seeing you at the market.
---
FEATURED LISTING FOR SALE
930 Andalusia, Coral Gables, Fl. 33134
Fall in love with this captivating oak filled home and its location, walking distance to downtown Coral Gables, 2 blocks away from Salvador Park and Tennis Courts, close to the Venetian Pool, open kitchen with long counter that feeds into large family room with high wood beam ceilings, elegant formal dining room overlooks pool, remodeled bathrooms, wood burning fireplace and crown molding throughout, impact resistant windows and accordion shutters.